The Good Soul of Szechwan
US
by Bertolt Brecht
Directed and Adapted by Gulu Monteiro
Translated from German by Clara Bellar
Electric Lodge, Venice, California, Jan-Febr. 2004
Setting: 1920 China
Roles: Shen Te, a prostitute; and Shui Ta, her fictitious male cousin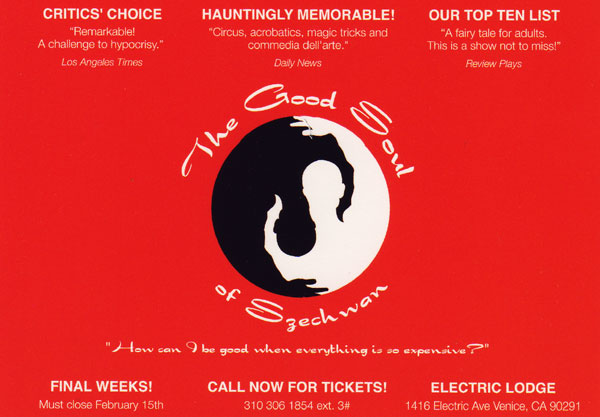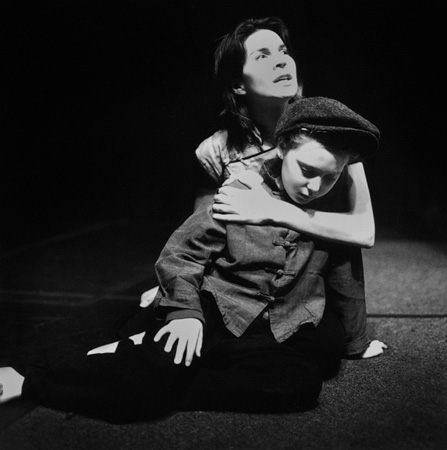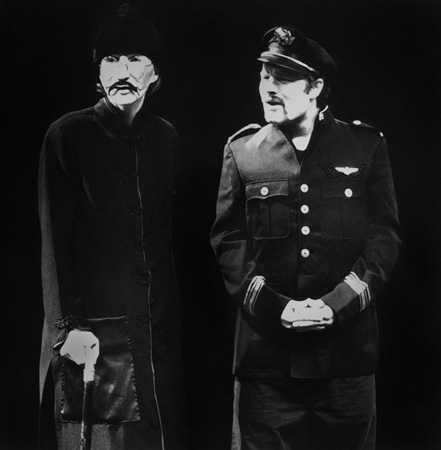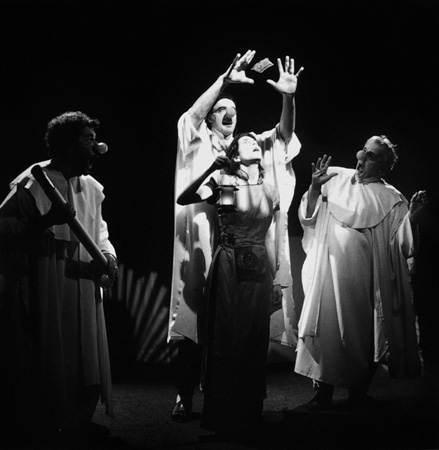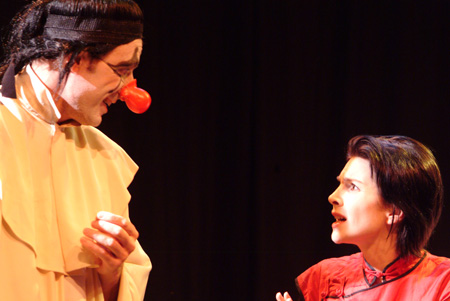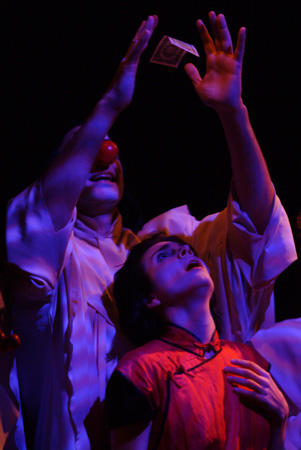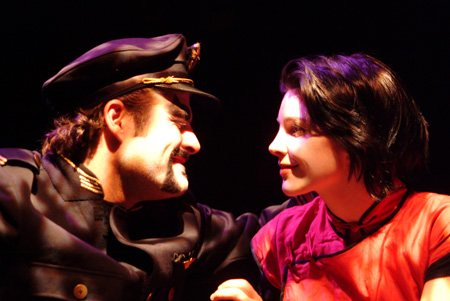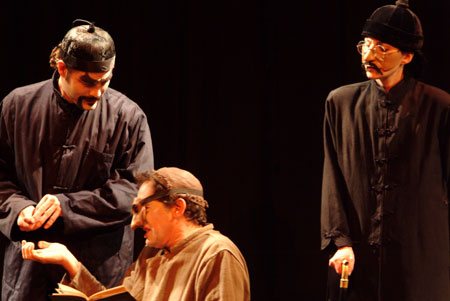 STORY:
Three gods come to earth in search of a thoroughly good soul. They encounter Shen Te, a good-hearted but penniless prostitute. They bestow on her a gift of money and Shen Te invests in a tobacco shop and shares what she earns with her community. In return, her neighbors take advantage of her generosity. Shen Te then struggles to find a balance between serving her village, pleasing the gods and becoming a respected individual within her community. To survive in an evil world, she must disguise herself as a man.
PRESS:
CRITIC'S CHOICE "Clara Bellar's memorable title tart centers a selfless cast."... "The ensemble is remarquable, centered by Bellar's translucent simplicity."
- David C. Nichols, LOS ANGELES TIMES
(click here to read full review)
"Bellar offers a hauntingly memorable portrayal as Shen Te, using her expressive body and face to reveal every aspect of this woman's misadventures with humankind."
- Julio Martinez, DAILY NEWS
"Clara Bellar, who plays the title's good soul, is a captivating stage presence and she seems at ease with Brecht's words."
- James Taylor, KCRW
"Bellar, as both Shen Te and Shui Ta, is compelling. And her ability to convey the hardships of trying to be good in a modern society is the evening's saving grace."
- Jeff Favre, DAILY BREEZE
"... a penniless prostitute, flawlessly portrayed by Clara Bellar as the winsome Shen Te." "She becomes her cousin, in an astounding transformation made possible by the austere costuming of Renata with back coat and severe mask with glasses. But it's Bellar's own authoritative demeanor and an assumed masculine voice that pull it off."
- Beth Temkin, THE TOLUCAN TIMES
OUR TOP TEN LIST "Clara Bellar plays the tricky roles of Shen Te/Shui Ta. She is luminous. As Shen Te, she projects a quiet grace and unsticky sweetness; as her dark side Shui Ta, she is subtly menacing and her voice even undergoes a change. It doesn't become more "masculine", but it conveys a very different character, unmoving and cold. The opening night crowd applauded so long and hard that the cast had to make three-count-em three-curtain calls. This is a show not to miss."
- Lynne Bronstein, REVIEWPLAYS
"Bellar imbues the character with such an unspoiled blankness that she almost appears to be doing homage to that Gallic cipher, Claudine Longet. The actor makes a nice contrast when Shen Te is forced to portray her fictional but business-minded male cousin, Shui Ta."
- Wenzel Jones, BACKSTAGE WEST
"The roles of Shen Te and of the cousin Shui Ta are played with dexterity and humility by Clara Bellar."
- Armelle Vincent-Arriola, FRANCE-AMERIQUE
"Clara Bellar is extraordinary in the leading role."
- Pat Atoun, RENDEZ-VOUS LA
© 2004 - Clara Bellar .com - All Rights Reserved